We look forward to you enjoying the below 
passed hors d'oeuvres during cocktail hour
as well as our themed libations in the Captain's Room.
We will be enjoying open bar.
Special thanks to the Field Club for working with us
to create the delicious gluten free and vegetarian options. 
Kindly indicate special food preferences on your printed RSVP card or through our online RSVP/payment link below by April 1st.   No refunds for tickets or wish list items.
---
Online RSVP and payment link below menu.
---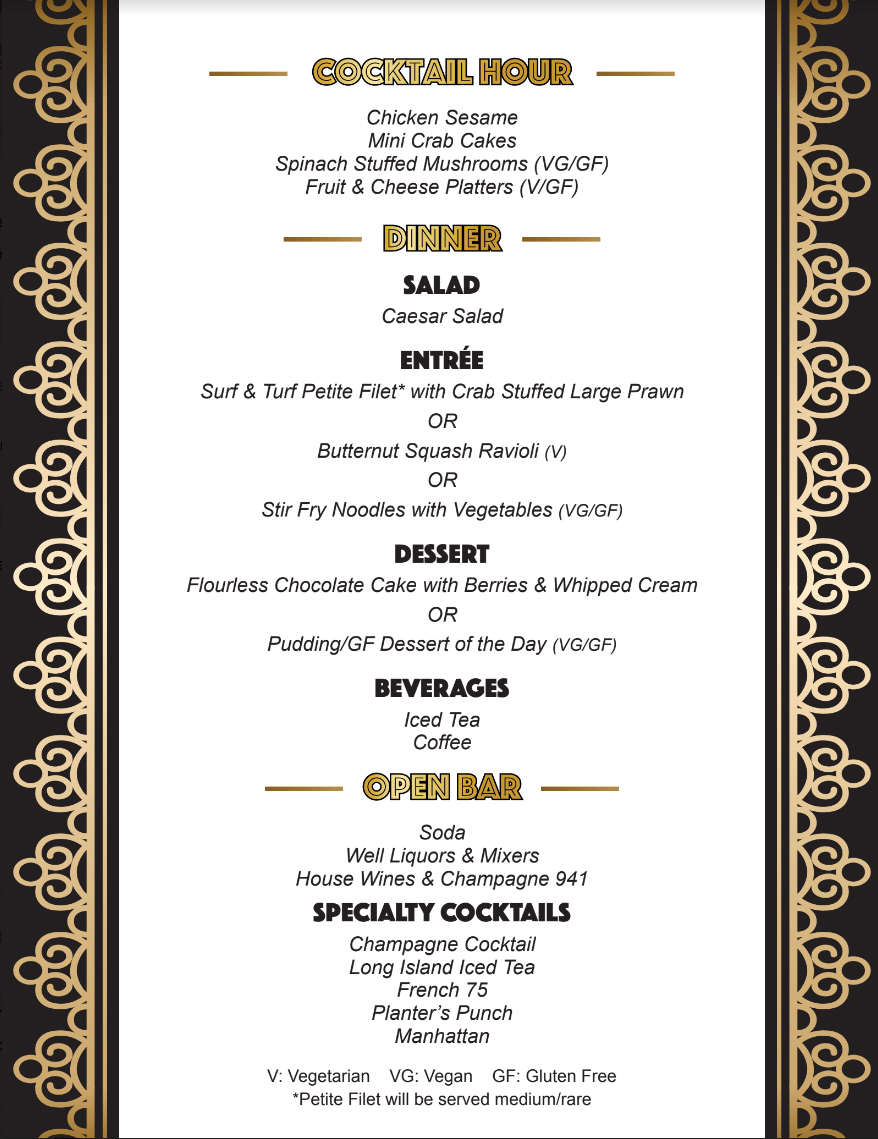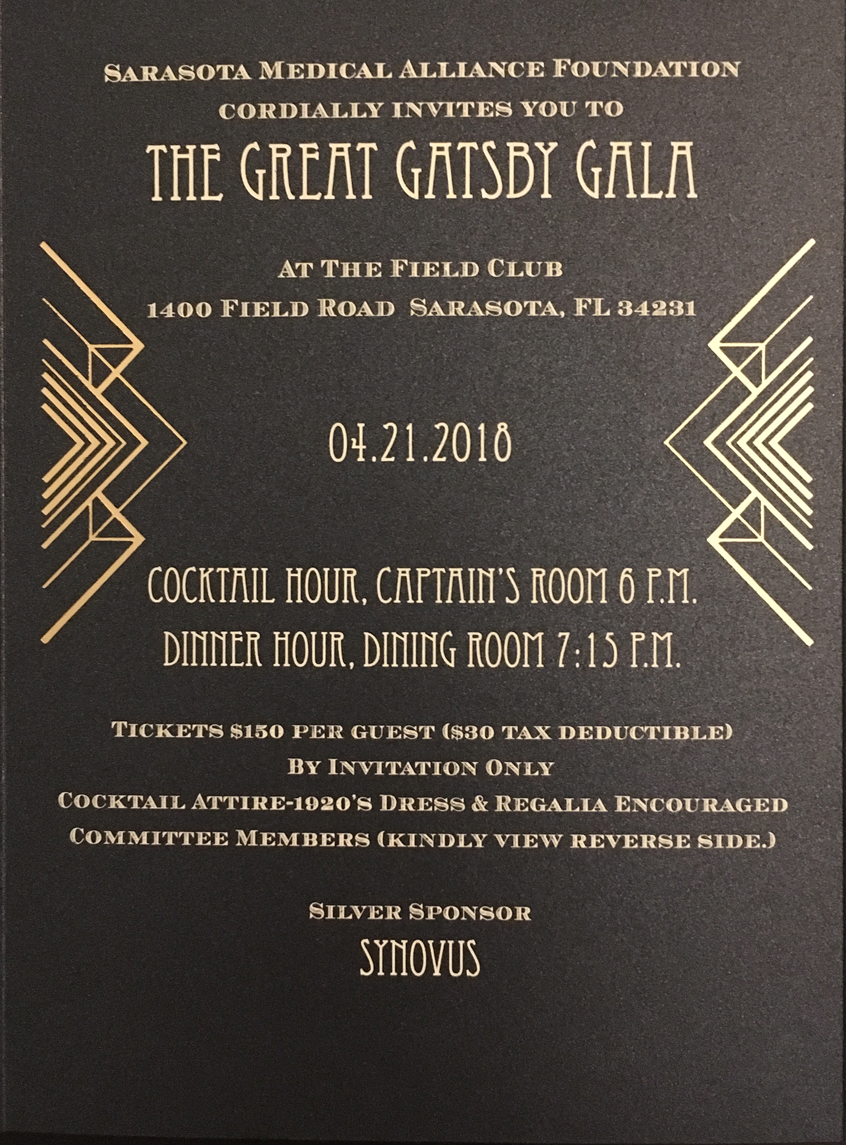 Great Gatsby Committee Members 2017-18
Priya Acharya and Dr. Naveen Acharya
Sarah Checcone and Dr. Mark Checcone

Barbara Darcey and Dr. Christopher Darcey
Kareena DiTomaso and Dr. Anthony DiTomaso
Bonnie Dunbar and Dr. Scott Dunbar
Sara Gapin and Dr. Tracy Gapin
Jennifer Gerardi and Dr. Matt Ercolani 
Linda Hoffberger and Dr. Jonathan Hoffberger
Erin Lilly and Dr. Michael Lilly
Melissa Perrin and Dr. Scott Perrin
Jessica Rahal and Dr. Kinan Rahal
Meredith Reeder and Dr. John Reeder 
Bonnie Silverman and Dr. Steven Silverman
Monica Van Buskirk and Dr. Richard Van Buskirk
Heather Wrigley and Dr. Clint Wrigley
Hilary Yunis and Dr. Jonathan Yunis 
You may view our themed menu online:   donate-smaf.org/menu/

A COPY OF THE OFFICIAL REGISTRATION & FINANCIAL INFORMATION MAY BE OBTAINED FROM THE DIVISION OF CONSUMER SERVICES BY CALLING TOLL-FREE (1-800 435-7352) WITHIN THE STATE OF FLORIDA. REGISTRATION DOES NOT IMPLY ENDORSEMENT, APPROVAL OR RECOMMENDATION BY THE STATE. 100% of each contribution is received by Sarasota County Medical Society Alliance Foundation (Registration # CH 3893)
(optional)  TABLE REQUESTS
After you RSVP you may indicate seating preferences with friends or colleagues  - click here . You will receive a table number upon check in at the Field Club.
SCMSA and SMAF are not officially affiliated with nor endorsed by the The Field Club of Sarasota,  Z Street Speakeasy Band, and / or YOUTUBE, its sponsors, ads or contributing content editors.  Our organization do not endorse or declare official affiliation with same.  The above videos are for entertainment purposes only and its techniques and advise are left to viewer discretion.  We do not own this content.